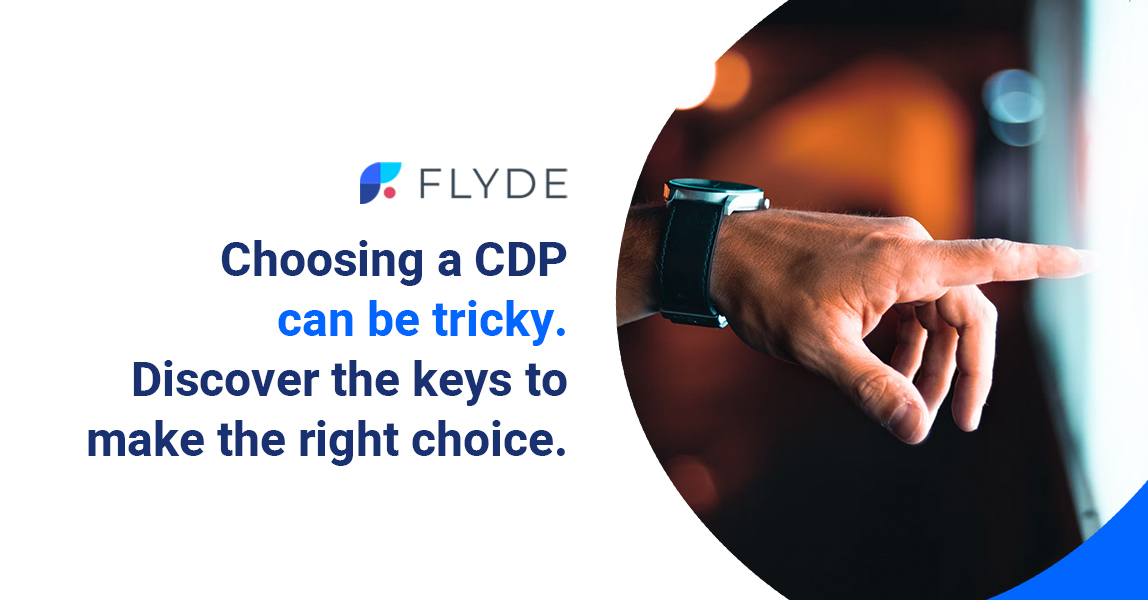 CDP or Customer Data Platform market is growing exponentially. Once you have understood the utility of a CDP you may start to think on implementing a CDP in your company. However, how would you be able to know which CDP best suits your company? To solve this question we have developed a list with the main aspects that will help you make this important decision.
1. Do I need a CDP in my company?
Modern companies, no matter their size or sector, generate a massive quantity of data, both from its online and offline customers and channels. The problem of the majority of the companies is that they don't use this data properly and, therefore, a complete or partial lack of knowledge of their customers and their behaviours.
A CDP helps companies unlock the full value of their customers in a very simple way: by unifying, collating and analysing all of their data from a single platform, enabling a complete understanding of their customers.
It is therefore an essential tool for any company that generates a large volume of data, is not getting the most out of it and needs to have a solid and complete customer database.
2. Is my data safe in a CDP?
The majority of the CDP offer a large list of guarantees, in terms of data-protection. However, they tend tto limit their data protection to the legislation of the region where it is settled, so it is always better to choose a CDP that comes from a territory with strong legislation in this area.
The United States, and especially Europe, have the most advanced legislation in terms of data protection, so it is always preferable to opt for a CDP from a company that comes from these territories bearing in mind that, in addition, if the CDP is European, it will guarantee compliance with the most advanced and secure data protection regulation on the market.
Not only that, at FLYDE we also offer you full internal control over data governance so that you can define which users have permission to which data, among other features.
3. Which functionalities should I look at in a CDP?
Every CDP should have the minimum requirement covered. However there are many functionalities that may vary in between the different CDPs.
Firstly, it is essential that the CDP fits with the expectations of your business. That is, thanks to the platform and its functionalities, meeting the objectives of the different areas is simple and can be done in a coordinated way between departments. For this, there are two fundamental points: analyse the tools available (more info about FLYDE Apps) and the ease of use of the platform. To make sure that the platform is what you are looking for, we recommend you to make a DEMO, this way you will ensure that anyone in your team can use it and you will see the platform in operation with real data.
Other functionalities that would make a big change in between the different CDPs is the use of Artificial Intelligence in the platform. The AI is the future when crossed over with huge quantities of Data and it would suppose a radical change to your customer comprehension.
Finally, other important features to look for in a CDP are those that are aligned to your business and objectives.
For example, if you have a loyalty programme, you will probably be interested in having a Dynamic Scoring. If you have an eCommerce with online and offline customers, a Single Customer View with a 360-degree view of the customer, or if you work taking into account KPIs by geographic area, a Geomarketing tool.
4. Could I integrate the different apps my company uses in the CDP?
As we have mentioned previously, a key feature of CDP's is the ability to unify your company's data in a single platform. A Customer Data Platform enables your company to integrate every single app used in order to unify all of your data. From Social Media to CSV files, through Shopify or the CRM your company is using, a CDP allows you to integrate all of these data sources to look at and analyse all of that data on a single platform.
Is it fundamental when choosing a CDP to look at the number of integrations available? Definitely not as long as the CDP provider offers to integrate your existing applications even if they are not in their current portfolio of integrations.
5. How much does a CDP cost?
We know that price when choosing a CDP, as well as in any other platform, is crucial. There is a huge range of prices in the CDP market depending on different characteristics that define each company.
One of the most important is the need for the support of a technical team or Data Scientist. This will make the CDP more expensive, as the more complex the CDP is to use, the higher the costs of its implementation and subsequent use will be.
The price is also influenced by whether you have technical services, the amount of functionalities you hire or the use of data, among other factors. Due to all these variable factors there is no fixed price range. Our recommendation is that you contact us and discover all the possibilities through a demo or a free trial.
Why FLYDE?
Do you want your company to move on to the next level? A CDP is the key tool that will allow you to maximise the potential of your data and grow your business. Working like the big multinationals in the market, which already have this type of software, and having control over all your data is now very simple.
Moreover, if you do not have IT or Data Scientist teams, this tool will allow you to outsource this function. And if you have them but want to reduce their workload and give more autonomy to your marketing and business teams when it comes to working with data, implementing an easy-to-use CDP would be the best option for your company. It will allow any single member of your company to use it, as this softwares are prepared for them.
Start taking control of your data today.
Schedule a meeting with one of our experts and discover how FLYDE can help your company achieve its goals.